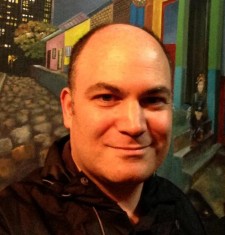 Aaron
Information Technology
Aaron joined Ti Kay in December 2011 and continues to work, running HaitiCon each year.
He arrived in Haiti as a 3 month on-site volunteer to help develop the Ti Kay website, build the Electronic Medical Records system, process the medical data, and assist with logistics for receiving donated supplies. Since returning to his home in San Francisco, California he continues to assist remotely with database management and fundraising. He established and runs HaitiCon, a fundraiser each year.
Aaron  te vin pati Ti Kay an desanm 2011.
Li te travay 3 mwa kòm benevòl an Ayiti. Nan tan sa a, li gentan fè yon pakèt bagay: ede n devlope sit entènet Ti Kay la, kreye sistèm Dosye Medikal Elektwonik la, trete tout done medikal yo, ak ede ak lojistik pou Ti Kay ka resevwa donasyon de materyèl ak founiti. Li gentan tounen lakay li, an San Francisco, Kalifòni, men li toujou konn ede nou de lwen, avèk jesyon bazdone e ranmase fon pou Ti Kay (HaitiCon).