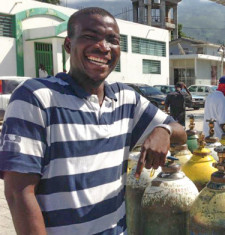 Pepe
Respiratory Technician
I am Pepe. I've worked at Ti Kay since 2011 with people who need oxygen.
I didn't go to school for that, but Ben Pritchard, the American nurse volunteering with Ti Kay, taught me how to do it. I graduated in videography at Ku Production. I'm happy to work at Ti Kay because I want to help with this great work being done on behalf of people with tuberculosis.
Mwen se Pepe. Mwen travay nan Ti Kay depi 2011 ak moun ki bezwen oksijèn.
Mwen pat al lekol pou sa men Ben Pritchard te montre mwen sa. Mwen te diplome nan vidéographie nan Ku Production. Mwen kontan travay nan Ti Kay paske mwen vle pote èd pam nan gwo travay kat fèt pou pran swen moun tibèkiloz