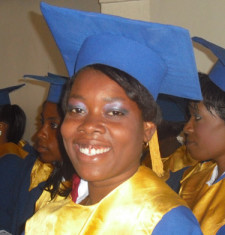 Katty
Informational Technology
I am Katty. I've worked at Ti Kay since 2012 in data processing, and sometimes in accounting.
I graduated in information technology from CETINFO. I'm glad to work at Ti Kay because I wish to help as I can with this wonderful work being done, taking care of people with tuberculosis.
Mwen se Katty . Mwen travay nan Ti Kay depi 2012 antanke enfòmatisyèn, pa fwa antanke kontab.
Mwen te diplome nan teknik enfòmatik CETINFO. Mwen kontan travay nan Ti Kay paske mwen vle pote èd pam nan gwo travay kat fèt pou pran swen moun tibèkiloz.