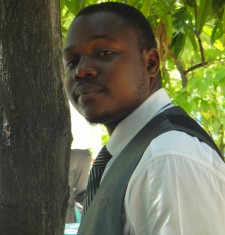 Tanguey
Inventory/Supplies
I am  Tanguey, but at Ti Kay they call me Tantann.
I've worked at Ti Kay since July 2013 in data processing. I also used to set up the sputum tests and record the results of the sputum tests. I studied at the Alliance Informatique. I'm truly happy to work at Ti Kay because it has brought so much change to the lives of more than 3000 patients. And I want to help with what is being done to take care of people with tuberculosis.
Mwen se  Tanguey, nan Ti Kay yo relem Tantann.
Mwen travay pou ti kay depi jiyè 2013 kom enfomatisyen, mwen te konn bay fe egzamen kracha tou avek rantre rezilta kracha. Mwen te etidye nan Alliance Informatique. Mwen vrèman kontan travay pou Ti Kay paske li pòte anpil chanjman nan vi plis pase 3000 malad. E mwen vle pòte èd pam tou nan sa kap fet la pou swen tibèkiloz la.