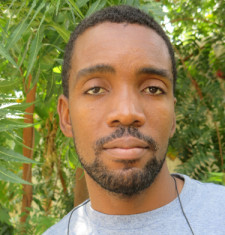 Inozil
Community Health and Triage
Community Health and Triage
My name is  Inozil. I studied electricity and construction.
I know a little English, and I know a little French. I am an employee of Ti Kay Haïti. At Ti Kay, I work as an agent, and in triage. I transport oxygen, too. I love Ti Kay, I like how Dr. Coffee takes care of the patients. I want to keep working with all the staff at Ti Kay. I like the staff very much.
Mwen rele Inozil. Mwen aprann elektrisite ak batiman.
Mwen konnen yon ti angle. Mwen konnen yon ti franse tou. Mwen se anplwaye Ti Kay Haïti
Pòs mwen okipe nan Ti Kay, mwen travay kòm agent, mwen travay kòm triage. Mwen prann oksijèn yo tou. Mwen renmen Ti Kay, mwen renmen fason Doktè Coffee pran swen pasyan yo. Mwen vle kontinye travay ak tout staf Ti Kay yo. Mwen renmen staf la anpil.